Jim
---
For the past four years, Jim's life has been all about the U.S. Marine Corps.
Ever since he was in middle school, he wanted to be in the military. He liked the uniforms, the lifestyle. He longed to be one of the few who could call himself a Marine.
Not having his mother around provided a final push to enlist. Maybe proving his allegiance to his country could help bring her back, he thought. At the very least, his income could help the family.
It was Jim who took it the hardest, his mother says, when she went to Juárez to apply for a green card in 2009 and instead found herself facing a 10-year ban from returning to the United States.
Gloria says that as she set up a new, solo life in Nogales, Sonora, Jim, then 17 years old and a senior in high school — didn't want to eat. For a while he wouldn't even leave his room.
The following year, in 2010, Jim graduated from Pueblo Magnet High School. Not long after that, he headed off to boot camp.
He immersed himself in military culture and began a career in radio maintenance. He took photo after photo of himself in his camouflage uniform, partying with the Marine buddies who became family to him. He posted them proudly to his social-media accounts.
But when it was time to re-enlist this year, he knew he couldn't do it, no matter how much he wanted to. With Bill off to college and their father's health deteriorating, it was his turn to step up.
"I knew I had to come home, like it was going to be a must," he says. "But at the same time I was, like, 'Damn, this is not fair, this sucks.'"
"I could've continued two more months, I could've been a sergeant. For a 22-year-old to make it up there that fast..." He pauses. "But I knew this is more important."
The transition hasn't been easy, but Jim doesn't like to show it.
He rarely talks about his feelings or his struggles. Ask him about it and you're likely to hear, "Whatever."
About the added responsibilities? He had a lot of responsibilities in the Marines, too.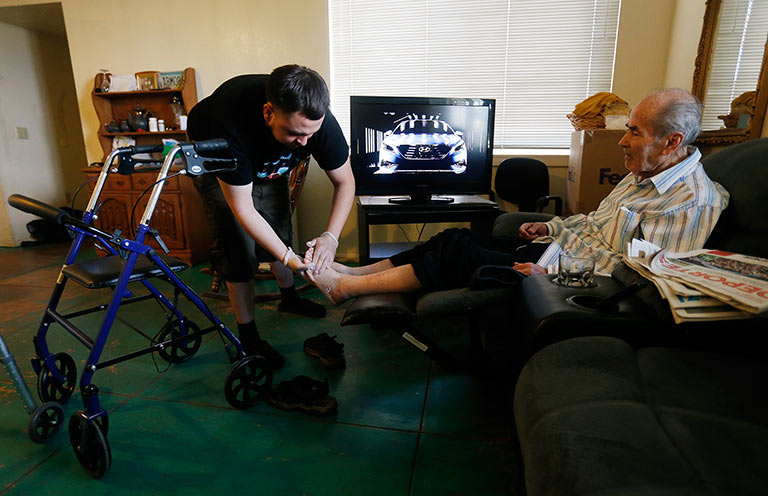 Jim de la Rosa, the oldest sibling, dons medical gloves to rub anti-fungal cream into his father's feet. Jim became Arsenio's primary caregiver when he returned from the Marines in February. "I knew I had to come home, like, it was going to be a must. But at the same time I was like, damn, this is not fair, this sucks...but I knew this is more important. Family comes first."
About his truncated military career? He enrolled at Pima Community College this semester, so he's just moving ahead in a different way.
Still, his bedroom is a shrine to what he has left behind. His walls are plastered with posters of space, of super heroes — and of Marines. Center stage is a group picture of Jim and his fellow Marines in camouflage uniform. His medals pinned to the shiny paper.
Since he got back in February, Jim's routine has changed. He used to get up before 6 a.m. to work out with his Marine buddies and go to work. Now he wakes up in the middle of the night to help Arsenio out of bed and to the bathroom.
The doctor said Arsenio needs to exercise his legs to improve his mobility, so Jim works with him on that.
One morning he counts to 20 as Arsenio flexes his right leg.
"The other one," he says as he grabs his father's left leg. "Ten more, ten more. Are you tired now?"
"No," Arsenio mumbles.
"In a little while, we are going to do more," Jim says loudly. Arsenio doesn't hear so well anymore.
When Jim was little, his dad was his hero.
If he and Bill fussed in the night as babies, Arsenio would get up to hold them and sing to them.
He took them to school and to karate — neither of them liked it, really, but they kept at it to make their dad happy.
He had retired from working as a fumigation pilot so he took care of them while Gloria worked.
Jim would follow his father around, holding the flashlight as Arsenio fixed a car.
He is the type of man who, even after he suffered the stroke, would walk slowly into the Project Yes building and hand-deliver a $20 per month donation to the free program — the only one out of hundreds of parents to do so.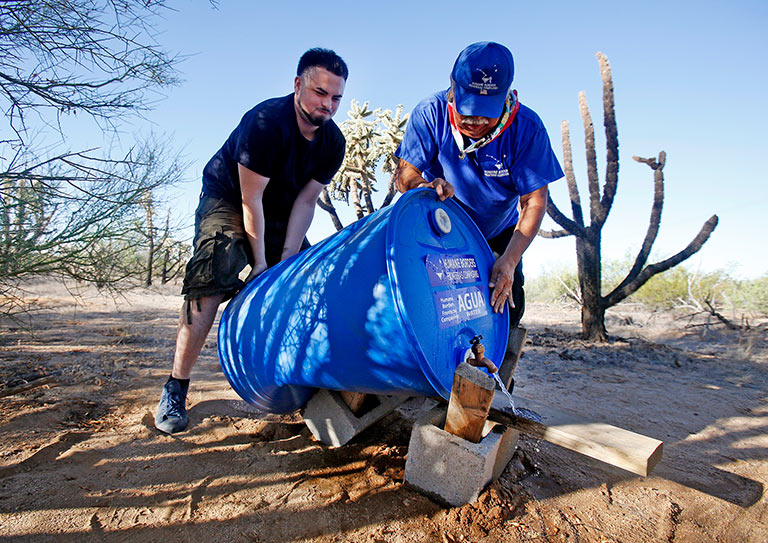 Jim de la Rosa, left, and volunteer Robert Cabigas try to hoist a toppled water barrel back onto its cinder block supports during a water supply run with Humane Borders. "Now that he's out of the Marines he needs a purpose," Cabigas says.
Now Arsenio mostly watches television or dozes on the couch, occasionally telling one of the kids to put on their shoes or to turn on the light so they don't strain their eyes. Jim, his primary caregiver, spends much of his day on the phone. He has gained weight in the seven months he's been back — he hardly recognizes himself in his boot-camp graduation picture.
He lives most of his life inside his family's small house — but fellow veteran Bob Cabigas, whom Jim used to work with at the greyhound racetrack when he was in high school, is trying to change that.
Cabigas volunteers with Humane Borders, filling water tanks for migrants crossing the desert, and Jim decided to join him.
"I think he's got it together," Cabigas says. "He just has to take the next step. He's supposed to go on a diet, and when? Mañana."
"I'm on vacation, Bob. Four years of hard working, come on," Jim bites back. "In one month, I'll be back to normal."
Then he'll start thinking about a career in law enforcement, he says.
Out in the desert, replacing old water tanks and making sure the rest have clean water, some would say Jim is helping people who have broken the law. But he's at peace with that.
"I'm patriotic. I love this country and I love the Marines too," he says. "I picture myself without water, having to walk 80 miles. Come on!"
His mother crossed the desert once, but he doesn't think of that often, not even when he is out there himself.
He describes Gloria as a compassionate person who will lend a hand to anyone who needs one. She's "like a perfect human being," he says.
But their relationship has grown distant.
"We just don't talk a lot about life stuff," he says. "I just don't like to talk about stuff like that."
He is not the same kid who played the violin and was a chess champion, Gloria says. When she tries to hug him, he pulls away.
He doesn't visit often, either. On the weekends he drives the kids and Arsenio to Nogales, Sonora, then he comes back to Tucson alone. He needs a break from it all.
Jim commends his mother for waiting out the 10 years.
"It caused problems — big problems," he says. "But, I mean, I'm proud of her for wanting to do it the legit way."
Still, sometimes he resents the fact that he's stuck at home while Bill is away at college.
"You should stay here," he's told his brother. "Or when you finish school you should get a job here."
Then he catches himself.
"He's doing all these important things and amazing stuff," Jim says. "So why should he come here when I can handle this?"